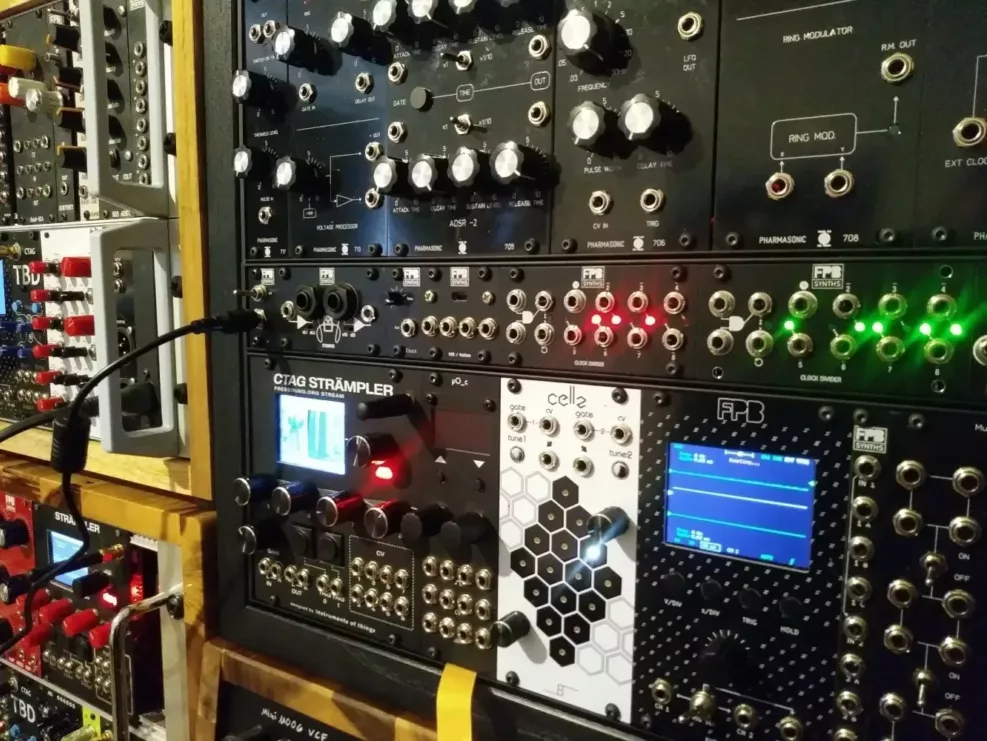 Forschungsgruppe
Perfect
Beat
Forschungsgruppe Perfect Beat · Synthesizer & Pro Audio Equipment · Development, Modification & Repair
"Keep looking for the perfect beat
And it'll help you reach your peak"
OpenScope MZ Adapter
This adapter for the Digilent OpenScope MZ allows testing of Eurorack modules and the use of probes and test leads with BNC connectors.
The measurement adapter for the Digilent OpenScope MZ can be used to perform measurements on Eurorack modules. In conjunction with LabVIEW, automated tests can also be created. The board contains matching circuits to adapt the inputs and outputs of the OpenScope to the higher voltage level of the modular system.
The board is attached to the OpenScope instead of the MTE cable. The connections are doubled on a double row pin header. The MTE cable can be connected ...
read more
OpenScope MZ Adapter
1U Stomper
With this stomp box adapter for Eurorack modular synthesizers, you can also use your effects pedal collection with your modular system.
This is a compact stomp box adapter for installation in 1U rows of Eurorack-compatible modular synthesiser systems. The module allows the use of electric guitar and electric bass effect pedals in the modular synthesizer. The input and output levels are adjusted for this purpose. The Eurorack signal to the effect pedal can be lowered by -20dB or -26dB, the effect pedal signal back to the Eurorack can be boosted by +20dB or +26dB.
The module can also ...
read more
1U Stomper
MIDI-Interface for DPM-48 Drum-Machine
No RAM cassette? - No problem with this MIDI trigger interface for the DPM48. In addition, more custom samples can be played back
For the drum machine DPM-48 ("Digital Percussion Machine"), developed in 1984 by the Japanese manufacturer Sakata and distributed in Germany by Hammond under its own brand, an interface was to be developed that would enable the digital drum sounds stored in the machine on EPROM memory to be controlled via any MIDI-capable device.The background for the development is the limitation of the device to create and play sequences only with an inserted (optional) RAM cassette. Another possibility ...
read more
MIDI-Interface for DPM-48 Drum-Machine